Podcast: Play in new window | Download
Subscribe: RSS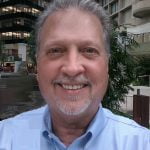 Think about this statistic: 80% of one-time learning events fail.
Wes Parker, an L&D leader with the software company Omnitracs, is passionate about reversing this number. One of the key ways he has been able to succeed in this goal is by implementing the full learning transfer model, as he explained on episode two of the Learning & Development Stories podcast.
Wes recounted how he and his colleagues used the full learning transfer model during a new leadership initiative at the Omnitracs. This involved the following:
1: Communications to the C-suite, HR business partners and leaders.
2: Video and e-learning components in which best practice on leadership was shared.
3: Interactive live webinar to review knowledge and practice skills around coaching, corrective action and developing people. Participants needed to come up with their own action items to close performance gaps.
4: Accountability partners were assigned and they met 30, 60 and 90 days after the webinar to share progress.
5: The leaders were provided tools that they needed to explain to their respective teams in different meetings.
6: Participants were given access to a website that included tools highlighting performance management best practices.
7: Weekly reinforcements.
"We saw dramatic results in the performance of our leaders," said Wes. "In three months, there was new knowledge and skills and then by six months we could see real business impact and ROI. A one-time learning event is critical, but by adding a meeting before and after, a website and reinforcements, you can really move the needle. It is more than learning. It is about learning application."
Learning from Mistakes
On each episode of the Learning and Development Stories podcast, we ask guests to share lessons from mistakes.
Wes noted that his team makes it a point to review mistakes in their weekly meetings.
"We ask what mistake we made in the previous week, how we fixed it and how to prevent it going forward," he explained.
He shared the personal story of how he failed to thoroughly vet a facilitator who came highly recommended. Consequently, a number of issues propped up.
"Never trust alone," advised Wes. "Verify, especially on critical opportunities."
Linking Learning to Business Objectives
The aforementioned leadership program is one example of how Wes linked a learning initiative to a business strategy. He advised others to think proactively about linking learning to business objectives through a line of sight tool (also referred to as an impact map tool). This involves writing out the following across four different columns:
– The strategic objectives of the organization.
– How different objectives will be measured.
– The performance or behaviors needed to achieve the measurement / objective.
– The competencies (knowledge, skills and attitudes) to perform behaviors.
"You have this line of sight to see how this competency links to performance so this objective will be met," he explained.
There are also times to be reactive as unforeseen circumstances arise. Wes advises to consider what strategy objectives the training request relates to, as this ensures each learning initiative is aligned to the business strategy of the company, department or team.
Employee Engagement
"Training is one of the main things wanted by employees," Wes said. "That is not going to change. Research shows we are all motivated by external motivators – reward and recognition – and internal motivators – purpose, choice, control of what we do, being connected to others and we want to be seen as capable. That is where training comes in."
Communicating Learning Initiatives
"Field of Dreams" doesn't work in terms of launching learning programs. You have to communicate effectively. Wes advises L&D teams to conduct communications audits to understand how the organization communicates. He also recommends close collaboration with marketing communications colleagues. In terms of messaging, he stresses the importance of focusing on the benefits, not the features.
Resources
Wes suggested that L&D professionals leverage the full learning transfer model and the line of sight maps. (Additional information about the full learning transfer model is at the following link).
To stay abreast about the latest in learning and development, Wes recommends signing up to receive daily emails from the likes of:
Society for Human Resource Management
Internal Society for Performance Improvement
ATD
eLearning Guild
In terms of teaching content that can be used in your organizations training programs, Parker recommends The Society for Human Resource Management.
Subscribe to the Informational Interview 2.0 Podcast
What are the communications tactics we need to be more innovative and marketable in a digitally disruptive world? The Informational Interview 2.0 podcast explores this question. Kevin Anselmo and Heidi Scott Giusto will share insights from their work and will interview expert career development professionals and individual innovators.Sign up to receive the podcast episodes and reports directly in your inbox.