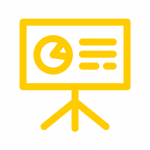 Public policy and public affairs schools still have work to do in ensuring that their PR activities are aligned with institutional big-picture goals.
This is among the findings from Experiential Communications' inaugural public relations and communications survey of schools focused on public policy and public affairs. The 10-question survey was conducted in May and June 2015 with the goal of providing schools' leadership with a benchmark to gauge their communications activities. A total of 15 of the top 30 schools ranked by US News and World Report took part in the survey. Respondents consisted of communications directors, PR directors, deans and program directors.
Seven schools (46.47%) responded that they were on the right track in linking their PR activities to their school's overall strategy, while the remaining schools felt that more work needed to be done in this area.
Another key finding related to content initiatives. Schools that have invested in content initiatives are in the minority. However, schools that have invested in content note that these initiatives are working well and accomplishing the set forth goals.
Access the complete study for more analysis and insights on how public policy and public affairs schools are approaching content marketing, media relations, communications strategy and native advertising.
Note: we will be doing a follow-up survey among schools focused on international relations and accredited by APSIA.