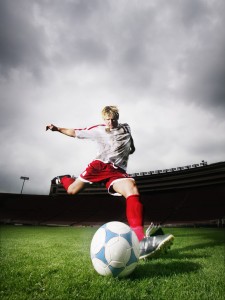 2014 marks the first time I've lived in the US for a World Cup since 1998. I've never been much of a football / soccer fan. But you can't help but to catch the fever to a certain extent when living in Europe. While you will never catch me waving a flag and jumping in jubilation after a goal, I am pleased to see how Americans are beginning to embrace this global sport. Likewise, higher education communicators and professors can catch the global fever of media opportunities in countries like Brazil.
It is easy to be pessimistic in thinking through media relations and shrinking newsrooms. If you just take a look at the list of defunct newspapers in the United States, you can come to the conclusion that the media relations game just isn't a good time investment. This is understandable on the surface. At the same time, it is far easier to reach global audiences through media relations than in the past. While developed countries are seeing shrinking newsrooms, developing countries'  media markets are actually rising in many instances.
Brazil is one case in point. A 2012 report from PR Newswire notes that Brazil has approximately 4,000 print newspapers and at least 650 daily titles. Despite the advance of new media, print newspapers have continued to grow, with an increase in the number of titles available. This can mainly be attributed to a growing middle class. More media is also being consuming online as internet access increases throughout the country.
Brazil is currently in the midst of "Science Without Borders", an initiative led by President Dilma Rousseff's to address the skills deficit in the country by sending over 100,000 students to study abroad. So in most cases, it would seem that the stars are aligned for university PR professionals to think about Brazilian outlets as part of their media relations operations.
I have worked with the Brazilian media since 2008. Here are some insights based on my experiences.
With financial resources
If you have the funds, it would be worthwhile to invest in a trip to Brazil to meet local media on your own. I was in Brazil on two different occasions for university business. When coming from abroad, there is always a greater willingness for a journalist to meet with a spokesperson or expert so long as you have something compelling to bring to the table.
In addition, it is always good to work with an agency, particularly to bridge the language gap. While agencies can get pricey, there are lots of local consultants and small boutique groups that can provide a great service at an affordable rate.
I have done media relations in Brazil on my own and with an agency. There are different pros and cons to both options. In either case, there is a good chance you will see positive ROI if you have the right strategies in place.
Without financial resources
There are ways to generate visibility in the press without going to the country or using an agency, though it is bit more difficult. For starters, there are a number of Brazilian outlets with bureaus in the New York, London, Geneva and Paris, among other major cities. For example, while working at IMD in Switzerland I developed a great relationship with the Geneva correspondent for Valor Economico (top financial newspaper) that led to many interviews and stories.
The language barrier can be intimidating. Portuguese is not an easy language to learn and it is always good to pitch a journalist in his / her local language. But many Brazilians journalists speak English and are understandable about this dynamic. In writing by email to non-native English language speakers, it is important that pitches are short, to the point and simple (this is also true for journalists in our native languages). For non-native speakers, it is all the more important to remove any semblance of jargon or academic speak. While follow-up phone calls are not always appreciated by busy journalists in cities like New York and London, I've found that a follow-up call to reporters in Brazil usually results in pleasant exchanges.
Brazilian journalists are always on the look out for trends and new research (not unlike journalists from other countries). Obviously research from top ranked institutions is likely to better resonate with Brazilian journalists. It is always good to localize your school's research so that there is some sort of angle to what is happening in the country. In our globalized world, everyone still wants local coverage! So that might mean pegging research about the middle class to Brazil's economic situation, linking research on female leadership to the country's President or showing the correlation between entertainment research and the FIFA World Cup and Olympics. Of course it is important to be aware about news headlines in the country, so reviewing stories from Brazil on some sort of regular basis is a good habit.
If you can show student trends related to the country, that will be of interest. I pitched a story while at Duke about the number of Brazilian alumni returning home to Brazil as opposed to staying in the States. The story was picked up on BBC Brazil and then about a dozen of other publications.
Obviously specific research and data related to Brazil / Latin America will be welcomed. So too will opportunities to meet with professors and administrators who are travelling to the Brazil for conferences, research, teaching exchanges and any other reason.
Outlets that could be a good fit for universities / colleges
Estado de Sao Paulo – second largest newspaper in Sao Paulo.
Fohla de Sao Paulo – biggest newspaper in Brazil. Think equivalent of the New York Times in the United States in terms of credibility. They have an English section, as well as other languages.
Globo News – 24 hours news station.
Valor Economico and Exame – top business publications.
Veja – top weekly magazine.
Of course most all major international outlets have correspondents / bureaus in Sao Paulo and to a lesser extent Rio. There are also English language specific outlets in Brazil, though for obvious reasons don't have large readership numbers.
There you have it – now develop a strategy, pitch and place. Boa sorte!
Experience more! Subscribe to our higher education communication tips of the week newsletter –
actionable tactics sent to your inbox every Wednesday.