University communicators: are you effectively mobilizing PR ambassadors within your institution?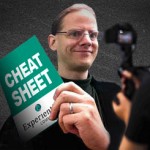 Hopefully you work with at least a few colleagues who are exceptional at doing media interviews, creating content and engaging on social media. Usually these individuals "get it". They know how to communicate, and are consequently generating positive visibility, both for themselves individually, and your institution. And the great thing is that these colleagues are generally quite independent and don't require too much of your time and support. Just imagine if you could double the number of "media stars" within your institution?
Over the past year, we have poured countless hours into researching the best practice in how academics go about communicating with public audiences. In our free 7-day Cheat Sheet series, we will share you with some of this research and how it applies to you as a university communicator. Use the frameworks, templates and best practice from this series, and you will be on your way to increasing the number of ambassadors at your institution. Sign up below!