1-to-1 COACHING: STRATEGY AND SUPPORT FOR COMMUNICATORS
KEVIN ANSELMO CAN SERVE AS YOUR STRATEGIST
Not every institution has t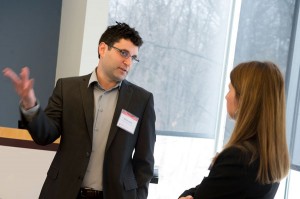 he budget to work with an agency on an ongoing full-scale retainer basis. Yet at the same time, you as a communicator feel that you have too many demands and too few resources. You hardly have time to think with the myriad of responsibilities you are facing. You can benefit from external expertise to gain perspective on your strategy, personal development, support on specific projects and training tips to get your colleagues on board with your plan. My coaching program for communicators could be a good fit for you. The program is ideal for any the following:
Senior level communicators looking for fresh and new perspectives on strategy formation and mobilizing colleagues.
Individuals assuming new leadership responsibilities
Colleagues relatively new to working in communications
Approach and Package
We begin our work together by exploring your context. What are you goals, challenges and opportunities? I will work together with you on putting together a personal 1-2 page action plan. Each month, we will tackle different aspects of the action plan in addition to addressing other issues that come up related to your specific context. In addition, I will share best practice tips from a Media Training for Academics curriculum that you can either apply to your personal work or you can use to train your colleagues to be ambassadors for your brand.
The coaching package will consist of the following:
A check-in call at the beginning of the month to address specific goals for the upcoming weeks.
A follow-up call later in the month to gauge progress on plan and/or provide training.
Quick feedback via email to any questions you have over the course of the month.
Up to 2 hours to provide support on specifics of your plan (research, drafting documents related to your strategy, editing your materials, supporting your priorities for the month, etc).
Benefits
External perspective. In higher education, it is so easy to get trapped into thinking too externally. I bring external perspective that helps you think through your communications from your audiences' perspectives. I provide objective feedback that isn't mired in internal politics.
Focus, accountability and support. By helping you with your action plan and then providing ongoing support, I help you focus on what really matters. By concentrating on what really matters, you can identify activities that either aren't related to your big picture goals or can be outsourced, ultimately saving you time and making you more efficient.
Best practice training. My external communications media training curriculum is based on the very best practice in higher education external communications. You will be able to apply these learnings and examples from this research, both for yourself and your colleagues.
Impact. This will look different from person to person, but ultimately, you will be more effective as a communicator and bring more value to your department and institution.
Why Experiential Communications
My coaching work integrates practice and research. I incorporate into our coaching program research from our media training curriculum which is based on comprehensive research into the best practice in higher education communications. I bring to the table my experience partnering with clients (IMD, Nestle, the College Advising Corps, The Geneva Centre for Security Policy, The Montreux School of Business, Seattle University, Duke Corporate Education and Aidan College) as well as previously leading public relations at two top business schools: Duke's Fuqua School of Business (#1 ranked MBA by BusinessWeek in 2014) and IMD in Switzerland (#1 for open-enrollment executive education programs by the Financial Times in 2015).
Fee
$1,200 one-time fee for creation of the action plan.
$600 per month for ongoing coaching (recommended time frame would be a minimum of six months). 
Sign Up Today!
Contact me with your questions or to sign up for the coaching program.