STRATEGY, ACCOUNTABILITY & SUPPORT TO HELP YOU ACHIEVE YOUR GOALS
WHO
If you are a communicator, academic, researcher or thought leader, we can provide coaching to help you achieve your goals.
EXPECTED RESULTS
– Clear understanding of your current activities and a benchmark to compare to others.
– A strategy and action plan to guide your activities.
– Clearly defined messaging and an understanding of the news value of your topics.
– Indirect and ongoing media training, leveraging the complete PR mix (earned, owned and shared media).
– The mechanisms in place to deliver on your strategy / action plan through ongoing coaching.
– Direct support on specifics related to your action plan.
– Increased impact across your different communications mediums (specifics of impact to be defined in the strategy phase).
STEP 1: DEFINING YOUR STRATEGY & STORY
Many external communications efforts fail because there isn't a strategy and clearly defined story. I work with you to create a strategy that articulates your goals, assesses your strengths and weaknesses, and provides benchmarks for best practice. The document I prepare for you also incorporates three elements that are key to the strategy process:
Key talking points messages
An editorial mission
An action plan
I work together with you to define these elements after an in-depth, one-hour interview that focuses on your communications impact goals.
Talking Points Document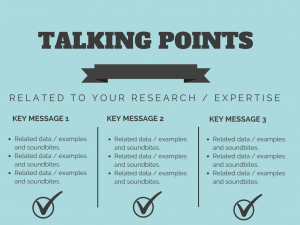 Talking points flesh out the key ideas to communicate with the press and essentially serve as a roadmap during an interview. They are also a valuable resource in defining your overall messaging that you would like to cascade throughout your different communications. Generally, the talking points consist of three main points to communicate. Under each point are the related examples and sound bites. In the course of the strategy interview, we will focus on defining the talking points around your research / main areas of expertise.
Editorial Mission
Academics have incredible opportunities to share their thought leadership using shared (social) and owned (content on your platform, like a blog) media. An editorial mission is important as it helps the content producer stay on track with editorial priorities. It is also useful for your targeted audience as they know what content to expect. Through the strategy interview, I help define your editorial mission: your targeted audience, the content you will deliver to this audience and the desired outcomes.
An Action Plan
A final component of the strategy document is an action plan. Based on the interview and defining the above elements, I will write up specifics actions and recommendations that will help you achieve your communications / PR goals.
FEE
$2,500
STEP 2: ONGOING SUPPORT TO EXECUTE STRATEGY
After we have our story defined and strategy in place, we can work together on an ongoing coaching arrangement to ensure that we are executing the action plan. Each month, we will agree to deliverables and my role will be to provide accountability, strategic counsel, feedback and encouragement. I will also provide limited hands-on support to help you execute accordingly. The coaching arrangement would consist of the following:
– Up to 90 minutes on the phone / Skype to talk through the monthly action plan. This would potentially consist of a 45-minute discussion at the beginning of each month to align on the key priorities and then a secondary call midway through the month to gauge progress and address issues.
– As part of this 90 minutes, I provide 1-to-1 training on various aspects of your action plan (i.e – best practice on how to blog).
– Unlimited email access in which I provide responses to your questions.
– Up to 2 hours of my time for basic support on certain projects as well as any necessary research (editing documents, coordinating resources, drafting articles, etc).
FEE:
$600 per month (recommended time frame would be a minimum of six months)
SIGN UP TODAY!
Contact me with your questions or to sign up for the coaching program.